"
It wasn't a waste of time. The twenty years you've lived here were well spent. Use what you've learned going forward, and you'll see your life has purpose here.
"

"Storm and Stress" is the eleventh episode of the Durarara!! anime.
Seiji Yagiri decides he must retrieve 'her' without his sister's help. Namie Yagiri demands of her subordinates why they did not bring the girl back, which was due to the arrival of Mikado Ryuugamine's friends. Namie angrily states that her men should have brought back him and his friends and receives a call from Mikado asking to make a trade.
In central Ikebukuro, Celty Sturluson is on a roof with many people in a crowd below checking their watches. Shizuo Heiwajima discusses with Simon Brezhnev the time a yakuza asked him the meaning of life. Simon is not listening, so Shizuo throws a motorcycle at him. Celty recalls her conversation with Shinra Kishitani about whether the past twenty years of her life have been meaningless and thinks on his marriage proposal.
Namie steps out of her car and sees Mikado, who is standing alone in the crowd. Her men disperse throughout the crowd as she inquires about the nature of Mikado's trade. Mikado offers her the location of the redheaded girl in exchange for the truth behind Seiji's actions toward Mika Harima. He asks Yagiri Pharmaceuticals to turn themselves in. Namie tells him never to impede her brother's actions, which Mikado deems twisted logic. At Yagiri Pharmaceuticals, Seiji corners one of Namie's men and demands to know the location of the girl.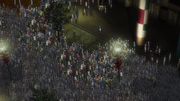 Mikado knows Namie is after him now, but Namie says schoolboys who get involved with the underworld should know better than to use cliches. She informs him life is not a scripted play, though Mikado prefers cliches and happy endings. He frantically wonders if everything will work and assures himself of his belief in 'them.' As he dramatically pulls out his phone, Namie signals her men in black, who rush toward them from all directions.
The leader of the Dollars reveals himself by sending a mass email to all its members. The phones of everyone surrounding them begin to ring - including those of Kyouhei Kadota, Saburo Togusa, Walker Yumasaki, and Erika Karisawa, who are in their van; Isaac Dian and Miria Harvent, who are in the crowd; and Celty, who is watching from a roof above. Kyouhei takes the redheaded girl to the roof, where they meet Celty. On the street, Namie watches the scene around her unfold in terror.
In the past, Mikado recalls how large the sky seemed in his hometown despite there being nothing in it. He wanted his life to change. When he bought a computer, there were tons of new worlds to explore, where he could email Masaomi Kida in Tokyo and chat with new friends. He and his new friends decided to create a gang like the online gangs, except make everyone think it was real, and they randomly leaked the password to different websites and forums and shared it through randomly sent emails. Members of the Dollars began appearing in the real world with growing numbers despite the creators having stopped sharing the password long ago. His friends were glad, but Mikado knew something was wrong.
Eventually, all the original Dollars creators became frightened by the size of their organization and left, leaving only Mikado. He realized that although some members of his gang were bad and got into trouble, there were many more good people in the Dollars. Posting on the Dollars website, he asked them to negate the bad impressions left by other gangs, but was labeled a child and a dreamer. However, it seemed some members shared his ideals: overnight, much of the graffiti in the city was erased. Mikado was overjoyed at what could only be the acts of the Dollars. Since moving to Ikebukuro, Mikado spoke with many people, including Kyouhei and Ryo Takiguchi, about the Dollars and discovered that they were still colorless but that the members really loved being a part of it.
At the Dollars meeting, Izaya Orihara finds everything fun. The members (including Izaya) have received a text saying 'everyone who is not looking at their phone is an enemy. Do not attack, just stare silently.' Other members, including Shizuo, Simon, Kaztano, Hashim, and the girl who carries the sign for lost things stand among the Dollars.
Earlier, Kyouhei's gang ran a red light while chasing the cleaning van that had clipped their van, and they almost hit the redheaded girl. They talked with her, but she said nothing. Walker posted on the Dollars website that they had found a girl with a scar on her neck and received a request from the admin asking for details.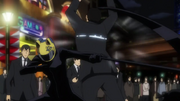 On the roof, Celty asks the redheaded girl her name. She replies with "Celty." The headless Celty runs back to her bike and screams "Screw it," then rides down the side of the building. She speaks directly into the minds of the people below, causing alarm and confusion, saying that she is a headless monster, real and here. Namie's men attempt to attack her but are stopped by Celty's scythe. One man manages to knock off her helmet. The Dollars members are shocked except Izaya, who smirks, as this confirms his previous suspicions. As everyone rushes to take pictures of the Headless Rider, Celty screams that this is her time to be born.
Seiji finds Mikado in the street and pulls out a knife. As he lunges toward Mikado, he demands Mikado return Celty.
Referbacks
Edit
To Celty asking Shinra if her life for the past 20 years was a waste of time, and his proposal to her
To the cleaning van leaving Yagiri Pharmaceuticals
To Namie's men questioning Mikado about the redheaded girl in his flat
To Kyouhei and his gang saving Kaztano from human traffickers in episode 6
Character Appearances
Edit
Cultural References
Edit
Isaac and Miria of Baccano! make an appearance. Baccano! is another work in the Naritaverse.
Walker's ringtone is Daisuke Ono saying "Bocchan, meeru de gozaimasu," which translates as "Young master, you've got mail." Daisuke Ono, who voices Shizuo, voices Sebastian Michaelis in Black Butler, who frequently refers to his master as 'Bocchan.'
Erika's ringtone is the voice of Mamiko Noto playing Ai Enma from the anime Hell Girl saying, "Ippen shinde miru?" which translates roughly as "Want to try dying this once?" or "Care to give death a try?" The Hell Girl and Durarara!! anime share director Takahiro Omori.
In the flashback, Mikado is seen accessing websites such as Yohoo! (Yahoo!), Amezon (Amazon), Yo!Tube (YouTube), and several Japanese websites. In addition, his computer came with Mindows 7 (Windows 7), according to its box, and he uses the operating system Wbunte (Ubuntu).
Mikado: "That's why I'll rely on numbers!"